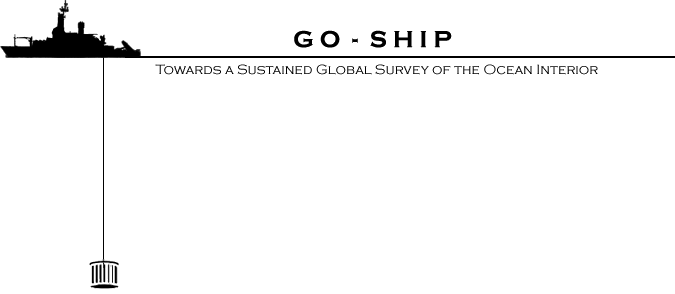 GO-SHIP brings together scientists with interests in physical oceanography, the carbon cycle, marine biogeochemistry and ecosystems, and other users and collectors of hydrographic data to develop a globally coordinated network of sustained hydrographic sections as part of the global ocean/climate observing system.
GO-SHIP is a major contributor to and sponsored by the WCRP's Climate Variability and Predictability Experiment (CLIVAR) project and the International Ocean Carbon Coordination Project. GO-SHIP is part of the Global Climate Observing System/ Global Ocean Observing System GCOS/ GOOS .
30 Nov 2012
The CCHDO Team will be updating and administrating the go-ship.org website as of 1 December 2012.
26 Nov

The GO-SHIP Panel has finalized the GO-SHIP Development Plan, which outlines priorities and timelines for coordinating national hydrography programs into a global coordinated network, and the organizational framework and budget required to develop a sustained program. The Plan will be published by early 2011.

With the completion of the Development Plan, Maria Hood will be stepping down as GO-SHIP Project Coordinator for a sabbatical. IOCCP Project Coordinator Kathy Tedesco will serve as GO-SHIP coordinator until a Program Office can be established.

15 Oct
The GO-SHIP committee is drafting a 5 year development plan and proposal to outline the necessary steps for establishing a sustained international coordination activity for repeat hydrography.
1 Sept

Dr. Robert 'Bob' Molinari has been appointed as the new ICPO Director to replace Dr. Howard Cattle. During his 34-year career at NOAA's Atlantic Oceanographic and Meteorological Laboratory, Bob served as a Supervisory Oceanographer, Director of AOML's Physical Oceanography Division and AOML's Global Ocean Observing System (GOOS) Center. He served as Chief Scientist on more than 35 cruises to the Atlantic, Indian and Pacific Oceans, and will be a great asset to GO-SHIP as it transitions to a sustained program.

We also bid farewell to Kate Stansfield who has left the CLIVAR IPO to return to research. Kate has been a great help in getting GO-SHIP up and running and we wish her all the best.

18 August
The GO-SHIP repeat hydrography manual is now available on-line. The GO-SHIP committee and sponsors would like to thank the more than 50 authors and reviewers who contributed to this important task.
4 July
The GO-SHIP repeat hydrography manual will be published in early August. The final chapters have now been received and are in final review / revision.
14 May
The 2011 and 2012 German AR02 cruises have berths available for groups doing nutrients and carbon. This section was occupied in 2007 (full section) and the western part was reoccupied in 2009. Funding exists for reoccupations in 2010-2013. For more information, contact Monika Rhein:

[email protected]

. For participation in the 2011 cruise, please notify Monika no later than October 2010. For the 2012 cruise, notification is needed by November 2011.
11-13 May
The Third South Atlantic Meridional Overturning Circulation (SAMOC) workshop will take place in Niteroi/Rio, Brazil, on May 11, 12 and 13, 2010. SAMOC 3 plans to get together international experts to design and plan the South Atlantic and inter-ocean exchanges element of an MOC observing system that would help address questions and challenges outlined in the documents and recommendations provided by OceanObs'09. It is expected that the workshop will foster international collaborations and will provide concrete basis for the implementation of the program. For more information, visit the workshop Web site at: http://www.aoml.noaa.gov/phod/SAMOC/index_SAMOC3.html.
7 May
New maps and tables are now available for cruises from 2010 and onward. The new map is color-coded to show cruises by country. The tables now include a list of measurements planned or proposed for future cruises. For updates or comments, please contact Maria Hood.
15 April
The GO-SHIP strategy will be presented as an Information Document to the 43rd Session of the Intergovernmental Oceanographic Commission Executive Council at UNESCO in Paris from 8-16 June 2010.
22 Mar.
GO-SHIP held an international planning meeting on 21 February in Portland Oregon. The all-day meeting was attended by more than 50 participants, and speakers from 12 countries presented cruise plans. Download the report (pdf | 2MB). National reports, synthesis projects and data assembly / management presentations are provided under Natoinal Program Information on the Cruise Plans page.
5 Mar.
Announcement: Deep-Ocean Workshop: Observed and Model-Simulated Property Changes in the Deep Ocean of the Southern Hemisphere. 21-23 June, Hobart, Australia. Workshop details (pdf 20kb)
6 Jan.
The Korean Polar Research Institute (KORPI) launched its new research icebreaker the Araon in January with open sea and ice trials between Christchurch and Cape Burks Antarctica. The Araon ("ara"=sea; "on"=all) has been designed to carry out multidisciplinary research in the Arctic and Antarctic regions and to provide logistics support for Antarctic research stations. International cooperation is sought for future research programs. For more information, download the Araon brochure (pdf 780 KB) and presentation (ppt 8MB), or contact the Mr. Sang Heon NAM, Head of Polar Operation Department, KOPRI at

[email protected]

.
20 Nov.
At its 3rd session (November 2009) the IOC-WMO Joint Technical Commission on Oceanography and Marine Meteorology (JCOMM) welcomed the development of GO-SHIP and supports the iniative to develop a sustained program. See GO-SHIP news for more information.