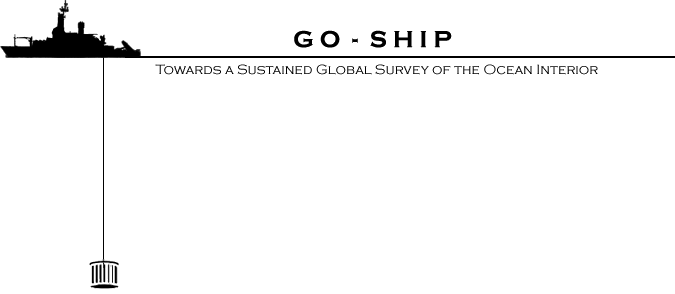 GO-SHIP brings together scientists with interests in physical oceanography, the carbon cycle, marine biogeochemistry and ecosystems, and other users and collectors of hydrographic data to develop a globally coordinated network of sustained hydrographic sections as part of the global ocean/climate observing system.
GO-SHIP is a major contributor to and sponsored by the WCRP's Climate Variability and Predictability Experiment (CLIVAR) project and the International Ocean Carbon Coordination Project. GO-SHIP is part of the Global Climate Observing System/ Global Ocean Observing System GCOS/ GOOS .
8 September 2014

GO-SHIP 4 reviewed meeting minutes

The reviewed version of the GO-SHIP 4 meeting minutes (2014 Ocean Sciences Meeting in Hawaii) is now available here.

15 August 2014

New US CLIVAR/OCB publication

The new joint US CLIVAR/OCB publication "The US Repeat Hydrography CO2/Tracer Program (GO-SHIP): Accomplishments from the first decadal survey" is now available here.

23 July 2014

Cruise update

The US fund a national US-GO-SHIP proposal and will occupy with NOAA and UNOLS vessels P16, Arctic Geotraces (ARC01), P18, I08S, I09N, I01E, P06, I05, A13.5, I06S and S4P between 2015 and 2020.

Canada and the UK occupied AR07 last month.

15 June 2014

P16S completed

P16 S was completed by the US last month: 90 stations in 46 days on Nathaniel B. Palmer between Hobart and Papeete.

5 June 2014

Cruise update

Japan confirmed a reoccupation of I10 in the summer of 2015 with RV Mirai.

15 May 2014

GO-SHIP Executive Group video conference

A GO-SHIP Executive Group and Committee video conference took place on 15 May, the reviewed minutes are available here.

12 April 2014

GO-SHIP and IIOE-2

The final version of the GO-SHIP position paper on the International Indian Ocean Expedition (IIOE)-2 is now available here.

23 February 2014

GO-SHIP Committee and Executive Group Meeting

The GO-SHIP Committee and Executive Group met in Honolulu before the opening of the 2014 Ocean Sciences Meeting to take important decisions for the future of the program. In particular the design of the network, core parameters and coordination of contributions and capacities by country have been discussed. More information are available on the meeting website.

16 February 2014

Town Hall during Ocean Sciences Meeting

We would like to invite all interested colleagues to a GO-SHIP / IOCCP Town Hall meeting during the Ocean Sciences Meeting in Honolulu on Wednesday 26 February 2014 at 12:45 in room 313B: Invitation (pdf).

21 January 2014

New Status Maps

New status maps in different formats and projections will soon be available. First draft maps are already on the Reference Sections page.

16 December 2013

GO-SHIP Zotero Group

The GO-SHIP bibliography has been transformed into a Zotero Group Library.

24 November 2013

Ocean Sciences Meeting 2014

GO-SHIP organizes a Town Hall meeting during the 2014 Ocean Sciences Meeting in Honolulu: 26 February, 12:45 to 01:45.

21 October 2013

Global Cruise Plan

The main part of the information we gathered in August and September on upcoming cruises has been compiled and validated.

2 October 2013

Bibliography

The updated bibliography is now available. Many thanks for all the feedback we received. We will transfer the bibliography gradually to a Zotero Group Library.

27 September 2013

Cooperation with DBCP

GO-SHIP Coordinator Martin Kramp reported at JCOMM's 29th DBCP session at IOC HQ in Paris on the potential to deepen the cooperation between the programs.

7 September 2013

GO-SHIP at OOPC-16 and OCG-5

Committee member Lynne Talley represented GO-SHIP this week at the JCOMM meetings OOPC-16 and OCG-5 in Silver Springs (USA) on behalf of the chairs

19 August 2013

GO-SHIP meeting 2014

GO-SHIP committee and community meetings are planned in February 2014 in Hawaii, prior to the Ocean Sciences meeting. Further information will be provided here as soon as possible.

30 July 2013

Co-Chair and Coordinator meeting

Bernadette Sloyan, Martin Kramp (on the left) and Mathieu Belbeoch met at JCOMMOPS HQ in Toulouse (France). Metadata on upcoming cruises and a GO-SHIP bibliography were main topics. Corresponding changes were realized in the structure of the website.

18 June 2013

New Email List

A new Email list has been set up. If you were subscribed to the old list and your mail address recently changed, please subscribe again.

23 May 2013

GO-SHIP welcomes new Committee Members

GO-SHIP welcomes Isabelle Ansorge and Mauricio Mata in the Committee. The GO-SHIP Committee members are now:

Chris Sabine (NOAA, USA; co-chair)
Bernadette Sloyan (CSIRO, Australia; co-chair)
Isabelle Ansorge (UCT, South Africa)
Masao Fukasawa (JAMSTEC, Japan)
Nicolas Gruber (ETH, Switzerland)
Masao Ishii (MRI-JMA, Japan)
Gregory Johnson (NOAA, USA)
Brian King (NOCS, UK)
Mauricio Mata (FURG, Brazil)
Lynne Talley (SIO, USA)
Toste Tanhua (IFM-GEOMAR, Germany)
Richard Feely (NOAA, USA; ex-officio)

19 April 2013

Co-Chairs meet new Coordinator

GO-SHIP Co-Chairs Bernadette Sloyan and Christopher Sabine met with the new GO-SHIP Coordinator Martin Kramp in Seattle (USA) and Victoria (Canada) to define a work plan.